What is an apprenticeship?
Apprenticeships combine on-the-job learning with study. You will be employed full-time (usually 30-40 hours per week) and your employer will pay you wages. You will work with experienced staff at your organisation to build skills and do about a day a week of study, with a training provider or university, to gain important knowledge you'll need to be competent in your field.
There is a misconception that apprenticeships are only for physical work like construction, but apprenticeships are available for just about any field. Within rail, there is demand for both in-field and office roles – presenting opportunities for a rail apprenticeship and career no matter what your interests.
What type of apprenticeships are there?
Different apprenticeships offer different levels of training – and some fields offer multiple levels. The length of the apprenticeship will depend on the job role and qualification you choose.
Apprenticeships have equivalent educational levels:
Intermediate (Level 2) – equivalent to GCSE
Advanced (Level 3) – equivalent to A level
Higher (Levels 4, 5, 6 and 7) – equivalent to foundation degree and above
Degree (Level 6 and 7) – equivalent to Bachelor's or Master's degree
Apprenticeships provide a great alternative to full-time degree-level study – although you can still work towards a degree as part of your apprenticeship and graduate at the end.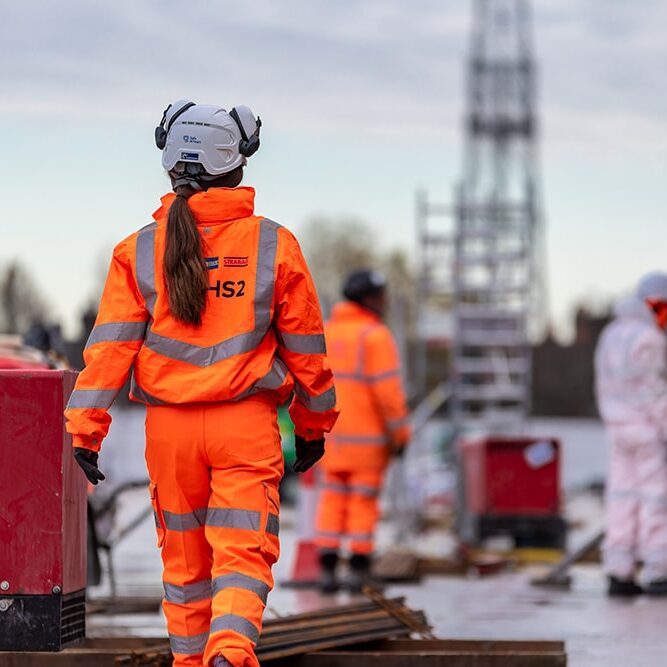 Reasons to do an apprenticeship
There are many benefits to doing an apprenticeship.
Gain hands-on experience
Split time between on-the-job learning and study
Earn while you learn, with no tuition fees
Start your career straight out of school
Choose from a wide range of roles
Option to work towards a degree
Apprenticeship opportunities available across the UK
Hear more from rail apprentices
Apprenticeship schemes in rail
Below you will find information on the various apprenticeship schemes available across the rail sector.
Create an account on Routes into Rail and keep up to date with the latest news on apprenticeship schemes, vacancies and other opportunities across the rail sector.
VolkerRail offer a range of apprenticeship opportunities in both site and office based roles. Apprentices work alongside experienced staff to gain specific skills, as well as receiving classroom-based learning through a formal college programme, to achieve a nationally recognised qualification.
Apprenticeships at Network Rail are designed to provide you with practical on the job training mixed with classroom-based learning.
HS2 are recruiting for 22 new apprentices, with opportunities based in Warwickshire, Birmingham, Milton Keynes and London. The Level 3 and 4 programmes are being offered across a broad range of subject areas from Surveying Technician to Cyber Security Technologist and Commercial Procurement and Supply.
Our 'Year in Industry' programme provides an opportunity for engineering undergraduates to experience life first-hand at Porterbrook, where they can contribute to specific projects during their time with the business.
Whether you're looking to grow your skills through a graduate programme, apprenticeship or placement, we embrace difference and believe everyone deserves the chance to fulfil their potential. Grow your skills, get training, earn a salary and make an impact whilst doing work that matters.
Our commitment to you, once you join our team, is to foster growth and provide developmental opportunities to ensure you reach your utmost potential.
More Apprenticeship Schemes
I started at NSAR in August of 2018 as a Data Analyst in the Skills Intelligence Team having worked at NSAR over the previous summer for work experience. Currently I'm in my third year of a four-year Degree-level apprenticeship in Digital and Technology Solutions at London South Bank University.
Read more

→
I am a track apprentice. Every day is a different day. Our main job is to maintain the railway, so that can lead from doing surveying to making sure the spacing of the railway is correct… on to heavy maintenance, which is to replace any defects we see, welding, the list goes on…
Read more

→